The Monday Morning Kickoff
A new week begins in the scarlet nation and The Monday Morning Kickoff returns to get you caught up on all the latest Rutgers sporting news.
A view from the gridiron (Rutgers Football)
This weekend, Rutgers held its Junior Day event with hundreds of prospects making their way to campus. That also gave the staff the opportunity to extend some new offers, one of which went to NJ wide receiver Eddie Lewis of Mater Dei High School.
"I just like the environment. You can tell it's different," said Lewis. "You can tell the coaches want me and that is just what I like to see. Everybody I talked to today knew my name."
Cedar Grove wide receiver Evidence Njoku also pulled in a Rutgers offer while on campus.
"It was exciting it's feels good to be offered by my home state," Njoku told Scarlet Nation after receiving the offer. "[Wide receivers] Coach [Jafar] Williams and I spoke for a while about everything and highlighted the staff loving my highlight tape and congratulated me."
Another offer went out to Johnstown (Pa.) defensive back Exree Loe, who is currently a Pitt commit.
"I have family in New Jersey, both in Neptune and in Camden," Lee said. "I will probably will try to get back down to Rutgers."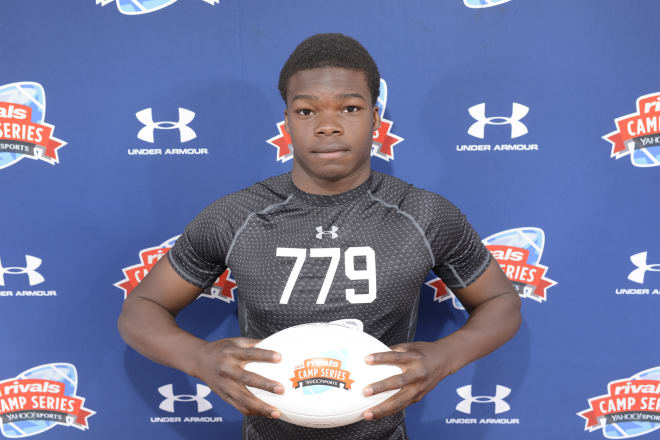 The day was not all about offers as it provided a long line of junior prospects the chance to check out the changes that have been made at Rutgers under new head coach Chris Ash.
"The changes Coach Ash has made, he changed the life of a Rutgers athlete from nutrition to student life. I don't remember Coach Flood doing anything exciting and all day Coach Ash has done exciting things," said St. Peter's Prep quarterback Johnathan Lewis, who holds a RU offer. "Speaking with (offensive coordinator Drew Mehringer) was fun, he's a young and relatable guy. I'm definitely interested, the new staff is a lot more interesting and the new offense fits what we run at St. Peter's Prep."
Rutgers also added a walk-on kicker this weekend when Indiana product Jared Smolar informed the staff of his decision while on campus.
"I am one that has always wanted to come in and make an impact right away," Smolar said. "With them losing their senior kicker last year, this is a great place to make an immediate impact."
For more recruiting news, stay logged onto Scarlet Nation for updates as they unfold.
On the mat (Rutgers Wrestling)
The 14th-ranked Scarlet Knights closed out their Big Ten season with a pair of road wins this weekend. The first came on Friday in a 30-9 victory over Indiana. That was followed up by a 24-15 win over No.23 Purdue on Sunday.
"It's a good win. It's another Big Ten win and it was a good weekend," said head coach Scott Goodale. "You come out here, get on the road and get away from home and it's good to get a win. I thought we wrestled really, really well. Our hammers had some really good guys today, some ranked guys, and our hammers won."
Rutgers wound up finishing with a 5-4 record in the Big Ten and is now 15-5 overall with one dual left against Drexel this Friday inside the College Ave Gym with a start time of 6 p.m.
The take from center court (Rutgers Basketball)
Rutgers played a hard-fought home game against Ohio State this weekend, but could not outlast the Buckeyes in a 79-69 loss. In the loss, freshman point guard Corey Sanders dropped 23 points.
"It was as cold inside as it was outside for us today," head coach Eddie Jordan said after the loss. "We didn't make many shots, we had open looks, we had...possessions, we couldn't make layups, we didn't finish to start the game and then throughout the game we got better but then there were some plays that we just didn't finish."
Next up for Rutgers this week is a Tuesday night road contest at Illinois followed up by a Saturday afternoon home showdown against Penn State.